Left and Right Hand
Size: 1-Pack
Simply constructed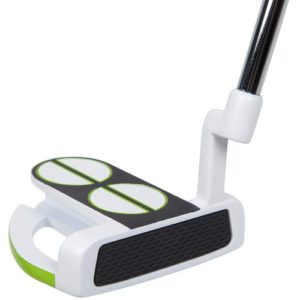 Men
Perfect balance
Alignment tool
Left Hand
Style Type: Jumbo Grip
Full shaft offset
Left Hand
Shaft Length:34 Inches
Counterbalanced
Left Hand
Superstroke Slim 2.0
Micro hinge insert tech.
Left Hand
Style: Standard Grip
More consistent sound
Left Hand
Tour-Proven Shapes
Soft 304 Stainless Steel
Right Hand
Tour-weighted
Putter length 34"
Left Hand
Style: SuperStroke Grip
Interactive Double Bend
Right Hand
Style: Rossie
Style: Jumbo Grip
---
Choose the Best Golf Putter
Customer's Choice: the Best Rated Golf Putters
44 users answered this survey. Please help us improve this review!

31.82% of users selected Two-Way Putter, 11.36% selected Pinemeadow Golf PGX, 27.27% selected Odyssey White Hot Pro, 20.45% selected TaylorMade Golf and 9.09% selected Odyssey O-Works. Every month we analyze your answers and change our rating.
---
Are you looking to take your putts to the next level? Are you struggling to land the ball in the cup? Not all putters offer a soft touch and smooth topspin. As such, we rounded up 10 pro and amateur favorites and gave them a test. Enjoy our reviews and buying guide.
Golfers of all skill levels have expressed satisfaction in the Quolf two-way putter. This lightweight serves golfers with right- and left-handed swings. The shaft is approximately 34 inches long.
Meanwhile, the club weighs around 1 pound. It has a sleek, professional-looking design with a slip-resistant rubber grip. The Quolf putter is affordable and performs well on all greens.
Pros
This putter offers ambidextrous grip
Its light weight makes it easy to swing
Excellent rubber grip
Symmetric and balanced
Cons
May be too short for tall golfers
---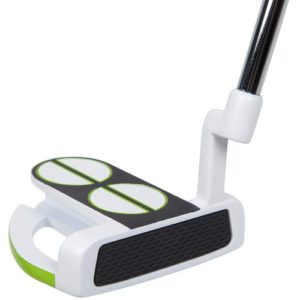 The Pinemeadow Golf PGX SL Putter enables a centered right-handed putt. The black and green polyurethane grip provides excellent shock absorption. What's more, the line on the top makes it super easy to line up a ball.
It also has an offset hosel, which ensures your ball is on the right track. It is symmetrically balanced, offering a more accurate swing. The PGX is one of Pinemeadow's most popular putters. One look at the low price will tell you why.
Pros
Comes with quality head cover
Dynamic alignment system helps you sink more putts
Mesh putter blade
Cons
---
If your hands are easily exhausted from a day on the green, check out the Odyssey White Hot Pro 2.0 Putter. This right-hand putter has a dark finish and a jumbo Winn Odyssey grip.
It boasts a proprietary EyeFit system, which helps you select the correct head type. It is also produced using a refined laser milling process. Not to mention, it has been the top-rated insert on Tour.
Pros
Includes a head cover
Sleek black finish pairs well with other clubs
EyefIT system for a more professional setup
Available in a variety of lengths
Cons
Head cover is not the best
---
TaylorMade's White Smoke Putter has a bright white insert and dark matte finish. The design makes it easier for golfers to line up shots.
The IN-12 has a thin linear body that sticks out against chunkier models, such as the MC-72 and the Big Fontana. The PureRoll generates an excellent topspin. What's more, it boasts a classic plumber's neck.
Pros
Excellent control
An unmatched setup
Lovely black and white design
Cons
---
This 2017 Odyssey O-Works Putter is known for improving golfers' topspins and speed. It has a vibrant linear design that will help you set your ball. It also boasts an excellent balance and comes at a standard length.
If you want to improve your confidence on the green, opt for this classic blade putter.
Pros
Comes with head cover
Stainless steel micro hinge plate
Top putter on major tours
Cons
---
The Odyssey Hot Pro 2.0 has a lengthy shaft (33 to 35 inches) and a bright white putter head. Customers have their choice of a standard or jumbo grip.
It boasts a proprietary fitting system that enables players to find the ideal head shape for their setups. The insert has a soft faceplate that enables golfers to control the distance of their shots. Its top markings serve as excellent alignment aids.
Pros
Three available shaft sizes
Inexpensive
Soft and responsive insert
Cons
Standard grip is not especially comfortable
---
Cleveland Golf's Huntington Beach Putter collection contains nine tour-approved putters. The "1" is their traditional blade putter. The shaft and head are made from stainless steel.
It boasts a soft insert with a precision-milled faceplate. The classic plumber's neck serves as an ideal offset.
Pros
Soft insert with precision milled face
Classic plumber's neck blade
Made from rust-resistant stainless steel
Cons
---
The Pinemeadow Golf Men's PGX Putter has a sleek white exterior that is easy to spot against a bright green backdrop. The club weighs 380 grams, making it an excellent option for fast-paced courses.
It even comes with a custom PGX head cover. We highly advise you to use this piece to protect the club's paint job. The club has a 34-inch shaft. This helps limit a player's bending.
Pros
White nano paint for increased visibility
Better for fast greens
Smooth forward spin
Comes with custom head cover
Cons
Paint is easily damaged when you don't use a head cover
---
Spider's L-neck Putter features a BLAST-powered real-time analytics system. It comes with a sensor that can be placed inside the putter's grip. The sensor collects 11 unique data sets related to its owner's golf stroke.
This data helps generate custom drills and tutorials. The Spider is available with a 34- to 35-inch shaft. It has a tilted loft as well as a tilted lie. The club's soft insert offers a consistently stable topspin.
Pros
Lightweight stainless steel body
Soft Pure Roll insert
(360-gram) weighted head
Super stroke grip
Cons
---
The Odyssey White Hot Pro 2.0 Rossie Putter is . It has a soft faceplate that serves to improve players' short games. The putter has several lines that will help you during your set up. It also comes with a quality head cover.
Pros
Distinct alignment line
Lovely black and white exterior
Jumbo or standard grip options
Cons
---
Buyer's Guide
Putters are probably the only golf clubs that are indisposable to golfers. These hardy clubs enable a player to expertly land their ball in a cup from a short distance. Today's golf clubs feature several science-backed performance elements, such as angled shafts, tilted faces, and offset hosels. In the section below, we point out the key considerations you need to make before settling on a putter.
Length
Most putters are between 32 and 35 inches long. However, you may be able to find smaller models for children and short adults. Golfers of average height (between 5 feet 5 inches and 5 feet 9 inches) tend to use 33-inch putters. A poorly sized putter will affect the direction and distance of your ball. Set yourself in your usual putting position. Then, measure the distance from your hands to the ground. Your measurement should be consistent with your next putter.
Weight
Most putters have a head weight of around 350 grams. Some putters also utilize a bit of counterweight. You should test out a variety of models before selecting a specific putter weight and height. This way, you will be able to determine which putter is more comfortable.
Face or Toe Balance
Putters may feature face or toe balance. The club on a face-balanced putter will turn up when the putter is tetered in the air. The face of a toe-balanced putter will turn out at an angle. Face-balanced putters are also referred to as mallets. Toe-balanced putters are called blades.
Head Type
Confused by the dramatic differences between putter heads? This section is for you!
Blade Butters
Blade putters are long, flat, and toe-balanced. Blade putters are the most traditional option on the market. Of course, they've gone through a major overhaul in recent years. Modern blade putters may have offset or centered hosels.
Mallet Putters
Mallet putters are face-balanced due to the help of weighted toes. They are also large and rounded. The weighted ends help players maintain control during strokes. The hosel of a mallet putter may be attached to the heel or center of the head.
Putters with Peripheral Weight
Peripheral-weighted putters tend to be shaped like a blade. Both ends of their heads are weighted. This helps golfers hit their balls directly in the center.
Counterbalance Putters
Counterbalance putters have an increased moment of inertia. In other words, they swing faster, giving golfers more control. Counterbalance heads are much heavier than traditional putters. They have more weight in the head and grip.
Neck
Putters also come with a variety of different necks. A putter neck may attach to the center or side of a blade. What's more, the neck may be bent. Plumber-neck is a popular hosel shape. It is characterized by its 90-degree bend. There are plenty of different twist and connection point combos that are engineered to improve your putting.
Grip
Many golfers prefer to use a jumbo putter grip. Wider grips prevent golfers from overmanipulating their golf swings. In turn, many golfers find that they have more success when using a chunky grip.
Regardless of its size, a putter grip should be slip-resistant. Consider your grip style when opting for a specific grip design. Check out Golf Monthly's "Which Putter Grip" video for more information on popular grip styles.
Alignment Aids
Most putter heads are painted with distinct markings. These lines are there to help golfers line up their shots. High-contrast putters also help to improve golfers' visibility. However, painted clubs typically chip and fade. As such, you should always store them under a quality head cover.
Video Tutorial: How To Find The Right Putter
Final Thoughts
Every golfer has a putter in his or her golf club set. Putters are famous because of their L-shaped heads. Putters are usually picked to strike a decisive blow into the hole, so this type of club must be treated with great care.
The clubs of each group have an additional numbering which indicates the length of the ball's flight. When choosing a putter, do not forget to specify whether it is used by a woman, child or left-handed person. I've tried to take into account these peculiarities during the choice of my top of the best golf putters. But, first, let's review the major types of golf putters.
Major types of putters for different tasks
There are 4 main types:
a club-shaped putter;
with the head resembling a hammer;
a rod at the middle of the putter's head;
when the major weight goes to the shaft and head;
The last 2 types are the most likely to have the largest impact on the turf. Compared to them, the old-fashioned stick-shaped putter is very difficult to use.
The length of the putters varies from 80 to 90 cm. The angle of inclination can vary between 3-7°. Putters with a small angle swing are ideal for professional golfers. Putters with a large angle swing can be used on bad turfs, as well as those players who put their clubs in the front position. A light putter can be very difficult to control, while a heavy club provides a smooth swing.
According to these types, I've picked a few putters and tested them in the field. Here goes the outcome of my tests.
Top 4 best golf putters, according to the experts from Golf-Hook.com:
Two-Way Putter is goof for left-hand and right-hand golfers, it is extremely effective with such a simple construction;
Pinemeadow Golf PGX is usually picked by men, has a nice balance and a special alignment tool;
Odyssey White Hot Pro is only good for left-hand golfers, its major style is jumbo grip;
TaylorMade Golf is another pick for left-handed players, it is counterbalanced due to the shaft length of 34 inches;
Odyssey putters are my favorite clubs when it comes to strong swings. Try their models if you seek the semi- or professional clubs of this type. Please, tell me what putters you prefer to use. I'd like to test new clubs during my annual golf drills.
We hope you enjoyed our rundown of the top golf putters. Putters are arguably the most important clubs that you can carry in your bag. For that reason, putter purchases require unmatched scrutiny. If you're in a rush, check out our editor's pick, the Quolf Golf Two-Way Putter. This ambidextrous club is engineered to refine the direction and speed of a golf ball. When you get a chance, check out our other picks and our comprehensive buying guide. Putting preferences vary dramatically between golfers. Your ideal putter may be completely different than your partner's.
---