Autoshot
Truswing compatible
Activity tracking
Convenient Quick Fit bands
Sport Type: golf
Activity tracking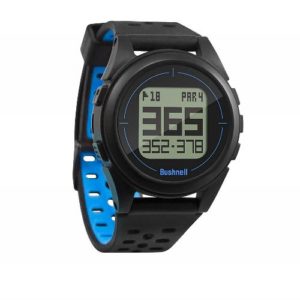 Color: Black/Blue
Long Battery Life
Bluetooth technology
Аctivity tracker
Notifications sync
Sport Type: Golf
Аctivity tracker
Energy tracker
Sport Type: Golf
Color: Black
Auto-course recognition
Sport Type: Golf
Color: White
Advanced golf features
Sport Type: Golf
Color: Black
High sensitivity GPS chipset
Comfortable watchband
Size:Small/Medium
Color:Black
Sport Type: Golf
Easy-to-use golf button
Automatic course
Sport Type: Golf
---
Choose the Best Golf GPS Watch
Customer's Choice: the Best Rated Golf GPS Watches
17 users answered this survey. Please help us improve this review!

47.06% of users selected Garmin Approach S20, 11.76% selected Garmin Approach S60, 5.88% selected Bushnell Neo Ion 2, 5.88% selected GolfBuddy WTX Smart and 29.41% selected POSMA GT2 Golf Trainer. Every month we analyze your answers and change our rating.
---
A quality golf GPS watch is sure to help you improve your golf game. These wearable devices provide helpful hit statistics and navigation tips. We've scoured the internet in hopes of finding five of the best golf watches, and we couldn't be more satisfied with the results.
The Garmin Approach is a sleek, comfortable wristwatch that will enrich your experience on the green. First off, this GPS watch features a proprietary program called AutoShot.
AutoShot automatically measures, analyzes, and records shot distances. The watch can also be paired with Garmin's TruSwing sensor to harvest swing metrics. The watch is loaded with more than 41,000 worldwide golf courses. Not to mention, it automatically updates courses and maps.
Not only is the S20 an excellent golf watch, but it also serves as a regular wristwatch, fitness tracker, and smart device. You can receive calls, texts, and other alerts on your watch. Depending on the mode you are using, you may be able to garner anywhere from 15 hours to 8 days of battery life.
The S20 prepares you for informal practice, intense competition, and more. You can use the watch to help you refine your shots from any location on the green. If you are an analytical player, you'll find the watch's data harvests to be indisposable to your success.
Pros
AutoShot feature measures, records, and analyzes rounds
High-resolution monochrome display screen
Form-fitting hinged wristband
Activity tracking and reminders
Tracks fairways hit, greens in regulation, and putts per round
Bluetooth and Ant+ connectivity
Black silicone bezel and band
Cons
Does not always accurately measure shots
---
The S60 is another handsome Garmin golf GPS watch. This one features a 1.2-inch circular touchscreen with a polymer bezel and silicone band. The S60 offers an array of outdoor recreation profiles.
What's more, this golf watch can be used to detect green yardages, course hazards, and other course statistics in real-time. With a 10-hour (golf mode) to 10-day (watch mode) battery life, the S60 is what we call a workhorse.
This watch comes with over 41,000 preloaded worldwide courses. It also an array of full-color maps. The high-resolution touchscreen provides easy access to metrics. You simply touch the precise location of your target to generate an instant measurement between you and that spot. It is worth noting that the maps are easy to read in direct sunlight.
Pros
Provides a full-color view of each course
Circular black watch
Quickly and accurately provides yardage to greens, hazards, and doglegs, etc.
10 hours to 10 days of battery life
Over 40,000 preloaded courses
Easy tool-free band changes and precise fittings
Records ball distances for post-game analytics
Cons
Does not include charging prongs
Pricey
---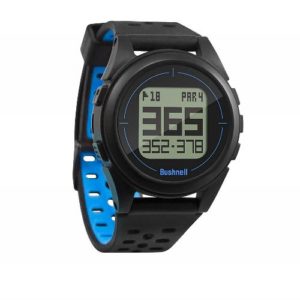 This incredible sports GPS will measure the distance from your ball to the hole. It features an integrated USB charging system as well as a cable for syncing. The watch also serves as an effectifive step counter and clock.
Of course, it also has plenty of enriching golf features.
For one, the watch is preloaded with over 36,000 worldwide golf courses. It provides accurate front, center, and back distances. Not to mention, it offers up to four hazard distances per hole. The automatic course recognition and hole advancement tools will give you a major advantage on the green. Of course, the data sets are also a precious resource for any golfer looking to improve their game statistics.
Pros
Sleek reversible band
Wireless course updates with the help of Bluetooth connectivity
Over 36,000 preloaded courses
Provides front, center, and back distances (plus four hazard distances per hole)
Reckognizes frequently played courses and holes
Step counter
Cons
Monochrome screen
Does not resemble a modern smartwatch
---
The GolfBuddy GB9 provides golfers with a GPS smartwatch experience. This watch comes with nearly 40,000 preloaded courses. All that information is packed into a sleek black band and face. The watch can be charged with a regular USB cord.
It retains nearly half of its battery even after a game of 18 holes.
We love that this watch doubles as a source for fitness metrics. Not to mention, it syncs with a smartphone to provide instant phone and email updates. Considering the luxury elements, the price is quite reasonable. Not to mention, customers seem overwhelmingly satisfied with the product.
Pros
Easy free updates and rapid smart notifications
Over 38,000 preloaded courses
Long battery life and easy to charge
USFA and R&A compliant
Responsive full-color touchscreen
Syncs with smartphone to provide text, call, and news updates
Easy to read in sunlight
Cons
Not the sleekest appearance
Must push button to refresh screen
---
If flashy watches are not your thing, check out this minimalist GPS watch by Canmore. It offers all the golf stat essentials, including green distances, hazard distances, shot distances, and scorecards.
It is also incredibly durable. It even boasts a waterproof exterior and a lengthy manufacturer's warranty.
The watch comes with over 38,00 preloaded worldwide courses. It has a super low price tag. While the monochromatic screen may seem like a relic from the past. However, it never fails to provide quick and accurate data. If you want a golf trainer that you can wear, the Canmore may be the best option for you.
Pros
Over 38,000 preloaded courses
GPS switches holes automatically
Can download data using a USB cord
Green distances, hazard distances, shot distances, and scorecard
High-contrast monochromatic screen
1-year warranty
Waterproof
Cons
No smartphone syncing features
---
Buyer's Guide
What should you look to gain from your new golf watch? These incredible wearable devices provide the same insight as a personal trainer. Read along to discover their key features!
Comfort and Style
Don't overlook a watch's role as a style piece. Make sure that your watch has a bendable or hinged band. Silicone and plastic are popular materials, as they hold up well in the outdoors. Most golf watches have round or square faces. Choose a watch shape that meets your personal preferences. Make sure that the screen is large enough for you to read without having to strain your eyes.
Courses
Most golf GPS watches are preloaded with thousands of worldwide courses. We recommend opting for a watch with 30,000 to 40,000 golf courses. Be wary of manufacturers that charge extra to unlock course data. Make sure that you can easily update data at any time.
Shot Metrics
Most golf watches provide accurate distance metrics. At the least, you should be able to track the distance of your shot and hazard distance. More in-depth watches may also offer scorecards and downloadable analytics.
Battery
Your watch should provide you with a few rounds worth of battery life. We found that most watches offered 8 to 12 hours of battery life in golf mode. Whereas, they offered several days of battery life in watch mode. Ensure that your watch battery is easy to charge. Most smartwatches can be plugged into a USB cord.
Screen
Your watch should offer high-definition or high-contrast graphics. The screen should be easy to read in direct sunlight. Some players prefer to use buttons, while others enjoy the ease of touchscreens. Find a watch that you are comfortable navigating.
Smart Features
Many golf watches now offer smart features. Most products can be synced to a smartphone or tablet using Bluetooth technology. This technology enables golfers to receive texts, calls, emails, and other updates directly from their watch. Many golfers prefer to keep their smartphones stowed in the valuables section of their golf bags. A lightweight wristwatch is far less cumbersome than a chunky phone. Not to mention, most wristwatches fair better in adverse weather.
Video Tutorial: How To Use The Golfbuddy WTX
Final Thoughts
A quality golf GPS watch can serve as a stand-in for a personal trainer. These little accessories help you keep track of your putting stats without forcing you to lug around heavy equipment. The options on our list offer plenty of preloaded courses, ample statistics, and lots of battery life. As always, our goal is to make your shopping experience a little more enjoyable. Now, get out and enjoy the green!
If you're eager to get on the green, we recommend you stick to our editor's pick, the Garmin Approach S20. This incredible watch comes with thousands of preloaded worldwide courses. It offers in-depth golfing stats that can be downloaded and parsed out by Garmin's complimentary golfing app. The Garmin is also ruggedly handsome. As such, we'd consider wearing it on and off the course.
---